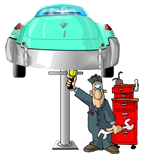 When it comes to protecting your investment in your vehicle, 
there  is no better way than an extended service contract. Buying one is a  contract that guarantees the service contract company will pay for covered expensive repairs and not you.
We have many different service contracts available for most all makes and models*.  If you'd like to add mechanical breakdown protection to your vehicle, Tubbs Brothers is the logical choice. We have multiple companies and coverages at our disposal.  So finding a plan that fits your needs and budget is usually very easy.  Call, email or simply fill out the form below for a quote or more information.